Contact
Secretary
Mon-Thu 9h-14h
Tel.: +49-6221-54-51450 (BioQuant, room 642)
Fax: +49-6221-54-51487
e-mail: Sofie.Steinfest (at) bioquant.uni-heidelberg.de
Mail address of the group at the BioQuant
Bioquant Center
Division of Chromatin Networks
Im Neuenheimer Feld 267 - BQ24
D-69120 Heidelberg, Germany
Mail address of the group at the DKFZ
Deutsches Krebsforschungszentrum (DKFZ)
Division of Chromatin Networks
Im Neuenheimer Feld 280 - B066
D-69120 Heidelberg, Germany
How to find us at the BioQuant
The BioQuant Center (Im Neuenheimer Feld 267) is located close to parking lot and the helicopter landing place on the university campus in the Neuenheimer Feld (see map below). Our labs (room number 622, 623 and 611) are on the 6th floor of the BIOQUANT. The office is in room number 645 on the 6th floor.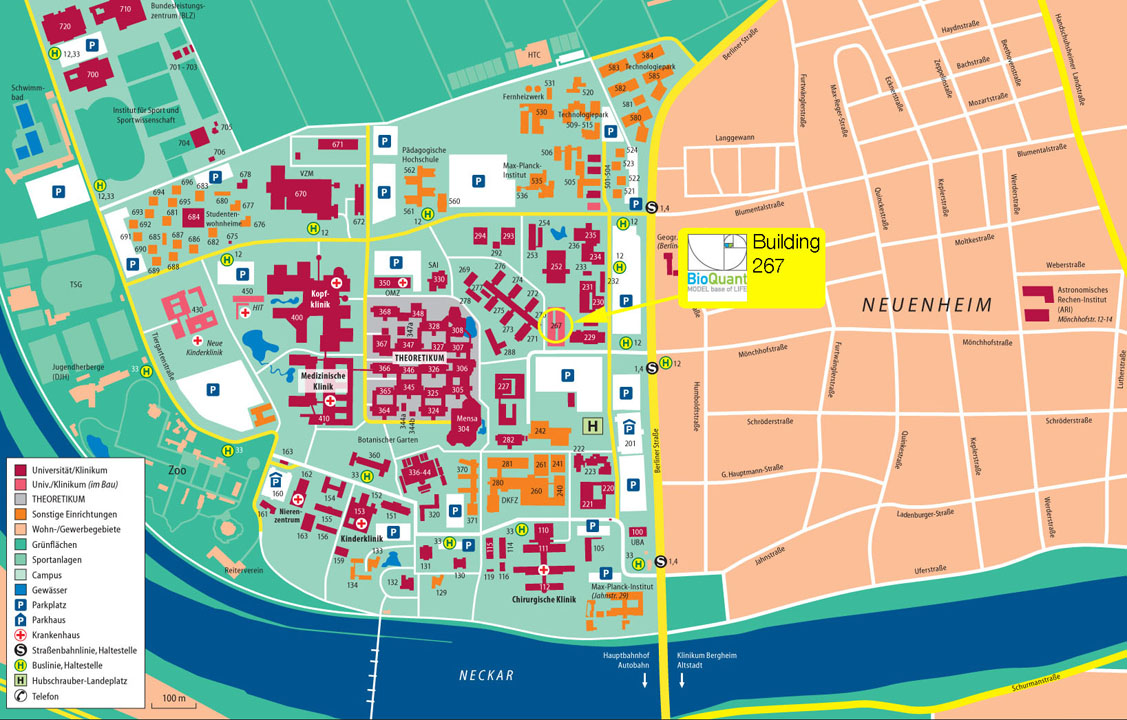 By public transportation
Public transport from the main station to the Neuenheimer Feld: Take cablecar lines 24 or 21 (direction "Handschuhsheim"/ "Hans-Thoma-Platz") to "Bunsengymnasium".
From the Old Town take bus line 31 going to Neuenheimer Feld departing at the University Square to "Jahnstraße".

By car
Follow motorway A5 to "Autobahnkreuz Heidelberg" and take A656 to "Heidelberg"
Turn left towards "Chirurgie" at the end of the motorway. Having crossed the Neckar on Ernst-Waltz-Brücke turn left to the institutes.
Coming from Neckargemünd:
Follow Uferstrasse, then turn into Posseltstraße; having turned left into Jahnstraße or right into Berliner Straße, finally turn left at the 2th traffic light junction (bevor the Shell - filling station) to reach the institute.
Additional information
Information about public transportation you can get at Verkehrsverbund Rhein-Neckar
Other maps and more information about Heidelberg: www.heidelberg.de